African Society of Human Genetics Activities
The Young Investigators Forum (YIF) manages various activities aimed at supporting the AfSHG aims. These activities aim to increase networking and also highlight the genetics research being conducted on the African continent, for the African populations or by African in Diapora. These activities are summarized in Figure 1 below and explained below. The AfSHG EXCo makes the final decisions, and the YIF is only supporting implementation under the direct support of the EXCo especially the AfSHG President and Secretary.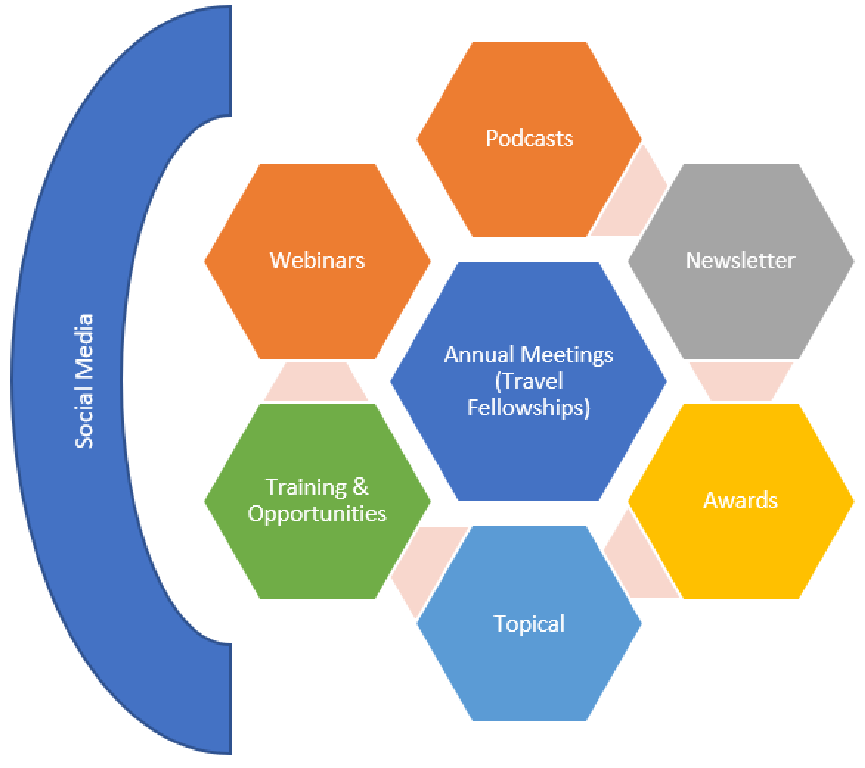 Annual Meetings: Young Investigators Forum: These are meeting which are held in different African countries which happen a day before the AfSHG conference. See link below for upcoming meetings.The Young Investigators Forum coordinate with support from the and Local hosting society.
Podcasts: These are release weekly. They feature young African researchers on the continent and in diaspora to show case their work and what makes them tick. Click to access the podcast series and line ups. 
Webinars: These are hosted by country societies and feature key researchers or research from that society. Click to access the podcast series and line-ups. The President of the Society Hosts these Webinars. T
Topical discussions: These sessions are held monthly and are aimed at encouraging topical debates and discussions within the society. 
AfSHG Spotlight Publications: These aim to recognise the most impactful publications from society members and can be submitted anytime of the year. The awardees are selected annually during the AfSHG AfSHG Annual Meetings.
Newsletter: We aim to release the AfSHG Newsletter once a year. With Issue 1 to be released in January, 2022 - Vicky Nembaware
Opportunities: AfSHG collects and distributes opportunities to members on a weekly basis  
Training activities: this happen online or during annual meetings. More items to be shared in due course.