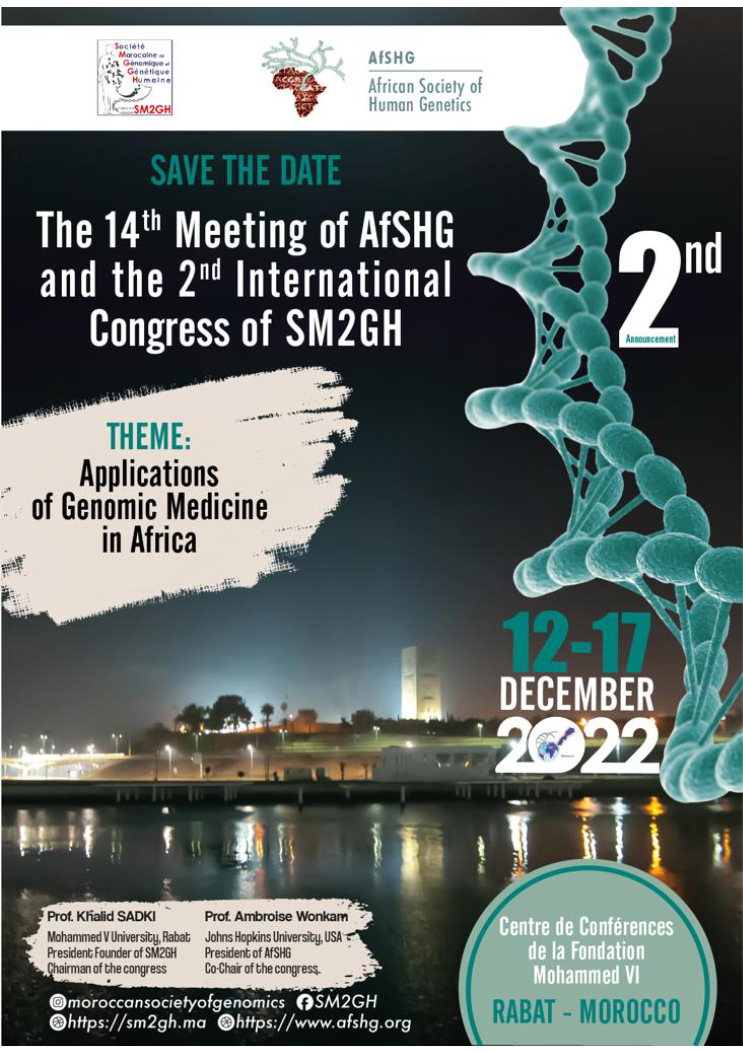 Guideline for Abstract submission and registration 14 th AfSHG Conference and the 2 nd International Congress of the SM2GH
The African Society of Human Genetics (AfSHG) and the Moroccan Society of Genomics and Human Genetics (SM2GH) are proudly hosting the 14th AfSHG Conference and the 2nd International Congress of the SM2GH in Rabat, Morocco from 12-17 December 2022.
Links to The African Society of Human Genetics and the Moroccan Society of Genomics and Human Genetics websites are : https://www.afshg.org and https://sm2gh.ma
Abstract Topics
We encourage submission of abstracts on recent scientific and technological developments relevant to genetics, genomics and related fields in Africa for topics related to or in the following human genomics and genetics topics :
Population genetics and Bioinformatics
Genetics of Infectious diseases (HIV/TB/COVID-19/Malaria etc)
Host-pathogen interactions
Genetics of rare diseases
Genetics of complex diseases
Cancers genetics and genomics (Oral, lung, breast, colon…)
Cancer Epigenetics
Translational Genetics
Immunogenetics

Immunotherapy
Pharmacogenetics
Cancer angiogenesis
Gene editing
Biomarkers
Whole Exome sequencing
Haemato-Oncology
Immunotherapy
Target therapy
Clinical trials
Genetics of oral diseases
Abstract Submission Requirements:
Abstract Formating:

Abstract Title: Please use a short and concise title that indicates the content of the abstract. (Please note: The title is not included in the total character count of 2200).
Abstract Body Text: Your abstract may have up to 2200 characters, which does not include title, authors, groups, and affiliations.
The abstract should be an MS Word file in Segoe UI font of single line space (12 pt.).
Spaces are not counted. Do NOT include abstract title, authors or keywords in the abstract text.
Abstract text may be submitted using the following methods: Either copy/paste, direct entry keystrokes, or file upload.
Your abstract may be written without the use of the following bolded headers (e.g., background, methods, results, conclusion).
Follow the abstract guidelines to ensure all required information about your study is provided in your abstract.
Author(s) Information: Author(s)'s name(s), institution(s), location(s), title(s).
Abstracts will be accepted only in English.
All Abstracts should be submitted online using the following application form - HERE
Each abstract will be reviewed by the scientific committee for acceptance as Oral or Poster Presentations during the Young Investigators' Forum or the Main Conference.
At least one author for each accepted abstract is required to be registered for the meeting for inclusion in the conference proceedings and be scheduled for presentation.
To be considered for a Travel Fellowship, submitters must be registered members of the African Society of Human Genetics.
Technical Support:

If you have any questions regarding use of the abstract submission processs, please contact technical support at sm2ghmorocco@gmail.com
Important Deadlines
Abstract submission will open:
May 23, 2022
Abstract submission deadline:
September 2, 2022
Fellowship application deadline:
September 2, 2022
Abstract acceptance notification:
September 23, 2022
Fellowship notification:
September 23, 2022
Registration will open:
May 23, 2022
Early Registration deadline:
November 02, 2022
Exhibitors Registration:
December 01, 2022
Registration Guidelines:
Registration fees
(in US $)
Early Bird African Professionals (including Moroccan Nationals)
  1200 MAD/$120
Early Bird African Students/ African Postdoctoral Research Fellows
  600 MAD /$60
Early Bird International Students/Postdoctoral Fellow
  $150
International Guests
  $250
After November 02, 2022, the registration fees will increase by $60 per person
If you plan to apply for a Fellowship, please register HERE and also submit an abstract via EasyChair. All applicants will be notified of Fellowship status by September 23, 2022
Exhibitors packages for sponsors:
PLATINUM (200,000 MAD* or $20,450)
GOLD (100,000 MAD* or $10,224)
SILVER (50,000 MAD* or $5,100)
BRONZE (25,000 MAD* or $2,550)

Exhibition stand/booth
Logo on the front page of conference e-booklet and website
Presentation stand (large space)
Logo (large size) labelled "Platinum sponsor" displayed in the conference hall
Logo on all printed media (large size)
Marketing material placed in the attendees' conference bag
Invitation of three people to lunch with the AfSHG executive during the conference
Invitation for three people to the conference gala dinner
Scientific presentation related to the theme of the congress

Exhibition stand/booth
Logo on the front page of conference e-booklet and website
Presentation stand (medium space)
Logo (medium size) labelled "Gold sponsor" displayed in the conference hall
Logo on the main banner of the event (Medium size)
Marketing material placed in the attendees' conference bag
Invitation of three people to lunch with the AfSHG executive during the conference
Invitation for one person to the conference gala dinner

Exhibition stand/booth
Logo on the front page of conference e-booklet and website
Presentation stand (small space)
Logo (small size) labelled "Silver sponsor" displayed in the conference hall
Logo on the main banner of the event. Small size)
Marketing material placed in the attendees' conference bag
Invitation of three people to lunch with the AfSHG executive during the conference

Exhibition stand/booth
Logo on the front page of conference e-booklet and website
Logo (smallest size) with labelled "Bronze sponsor" displayed in the conference hall
MAD* = Moroccan Dirham
Download - 14th Conference Agenda & 2nd International Congress SM2GH
Local Organizers
> SM2GH Team:

Sadki Khalid, Mohammed V University in Rabat
Belmouden Ahmed, Ibn Zohr University, Agadir
Baassi Larbi, Institut National d'Hygiène, Rabat
El Mzibri Mohammed, CNESTEN, Maroc
Idaghdour Youssef, New York University Abu Dhabi, EAU
Hayat, CDC Atlanta, USA
El Kadmiri Nadia, Ibn Zohr University, Agadir
Abbas Younes, Sultan Moulay Slimane University in Béni Mellal
Rifai Laila, Institut National d'oncologie, Rabat
Laraqui Abdelilah, Hôpital d'instruction Militaire Mohammed V de Rabat, Maroc
Barakat Abdelhamid, Institut Pasteur du Maroc, Casablanca
Nawal Bouyahyaoui, Mohammed V University in Rabat
Ennibi Oumkeltoum, Mohammed V University in Rabat
Mguil Malika , Mohammed V University in Rabat
Lemkhente Zohra, Ibn Zohr University, Agadir
Boubrik Fatima, Ibn Zohr University, Agadir
Meryem Fakhhari, Mohammed V University in Rabat
AfSHG Organizing Team
Ambroise Wonkam, Johns Hopkins University School of Medicine, USA
Vicky Nembaware University of Cape Town, South Africa
Scott Williams Case Western Reserve University, Cleveland, USA
Michele Ramsay University of Cape Town, South Africa
Ghada kamah Human Genetics and Genome Research Institute, Egypt
Siana Nkya, Dar es Salaam University, Tanzania
Amadou Gaye, National Institutes of Health, USA
Rokhaya NDIAYE, University Cheikh Anta Diop, Senegal
Sirugo Giorgio, University of Pennsylvania School of Medicine
Guida Landoure, Faculté de Médecine et d'Odontostomatologie, Mali
Mohamed Zahir, Muhimbili University of Health and Allied Sciences, Tanzania
Raj Ramesar, University of Cape Town, South Africa
Scientific Committee
>NATIONAL

Sadki Khalid, Mohammed V University in Rabat
Belmouden Ahmed, Ibn Zohr University, Agadir
Barakat Abdelhamid, Institut Pasteur du Maroc
El Mzibri Mohammed, CNESTEN
Rachid Abilkassem, Hôpital d'instruction Militaire Mohammed V de Rabat
Errihani Hassan, Institut National d'Hygiène, Mohammed V University in Rabat
El Kadmiri Nadia, Ibn Zohr University, Agadir
Nejmeddine Mohamed, Ibn Zohr University, Agadir
Fouzia Radouani, Institut Pasteur du Maroc
Izaabel El Hassan, Ibn Zohr Mohammed V University, Agadir
Dehbi Hind, Hassan II University in Casablanca
Laraqui Abdelilah, Hôpital d'instruction Militaire Mohammed V de Rabat
Oumzil Hicham, Institut National d'Hygiène, Université Mohammed V de Rabat
Aboussair Nisrine, Ibn Tofail University, Marrakech
Sanaa Chala, Faculty of Dental medicine, Mohammed V University in Rabat
Bellaoui Mohammed, Mohammed first University, Oujda
>INTERNATIONAL

Ambroise Wonkam, Johns Hopkins University School of Medicine, USA
Vicky Nembaware University of Cape Town, South Africa
Scott Williams Case Western Reserve University, Cleveland, USA
Michele Ramsay University of Cape Town, South Africa
Ghada kamah Human Genetics and Genome Research Institute, Egypt
Siana Nkya, Dar es Salaam University, Tanzania
Amadou Gaye, National Institutes of Health, USA
Rokhaya NDIAYE, University Cheikh Anta Diop, Senegal
Sirugo Giorgio, University of Pennsylvania School of Medicine
Guida Landoure, Faculté de Médecine et d'Odontostomatologie, Mali
Mohamed Zahir, Muhimbili University of Health and Allied Sciences, Tanzania
Nwabisa Aaron, South Africa
Raj Ramesar, University of Cape Town, South Africa
Issiaka Soulama, Institut de Recherche en Sciences de la Santé, Ouagadougou, Burkina Faso
Yosr Hamdi, Institut Pasteur de Tunis
Leon Mutesa, University of Rwanda, Kigali, Rwanda
Idaghdour Youssef, New York University Abu Dhabi, UAE
Karim Benabdelah, Pfizer-University of Granada-Andalusian Regional Government, Spain
Aimé LUMAKA, University of Kinshasa, Democratic Republic of Congo
Said Aoufouchi, Institut Gustave Roussy, Paris, France